Welcome to hangaronekits
At hangaronekits we are passionate aeromodellers and manufacturers of quality laser cut aircraft kitsets. Quality is assured because we hand select the the best balsa wood from Papua New Guinea and European Plywoods for each kitset.
Our kitsets are made to order daily, and are shipped worldwide. Simply add any product to your shopping cart to find out the shipping cost to your location.
View Our Range Of Kitsets
Shipping Options
We now use DHL Express for our worldwide shipping for over a year now with
great success. We have a record of 0 lost shipments (Ok one got delivered to
wrong address) and an average delivery time for around 10 days.
Some customers said it is faster to ship from us here in New Zealand than
within the US.
We try to keep the costs as low as possible for you and pack as tightly as
we can. This sometimes mean, that you need to so some extra assembly steps,
like splicing long sheets and sticks, but we pre-cut the splices for sheets and
for hardwood sticks.
We also offer a pick-up by your selected courier from our location, please
get in touch with us beforehand, so we can arrange.
We use our partner Jetkrate Limited for international collection
services, have a look if that also would be a viable option for you.
If you want to utilize these people, the best way will be to contact us,
requesting to use the service , we will generate an invoice for you for the kit
less the freight component, then you can register with these people to pick up
the kit and dispatch it to you after freight payment.
If you have any questions, please don't hesitate to contact us.
Happy building and flying!
The 93" Super Sinbad
We have taken those gorgeous, classic lines of the Super Sinbad Free Flight Glider from 1943 and scaled it up to a 93" 2 channel glider for slope or bungee launch.
The body is built in two halves using an arrangement of formers, allowing you to keep that open structure but still build an accurate fuselage. The two piece wing uses the original aerofoil and is joined through a strong centre spar box with a 3mm laser cut steel wing joiner.
see it here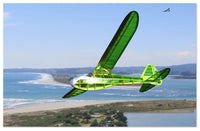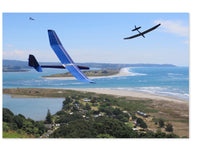 Takahe Build Log On RC Groups
If you would like to see how our kitsets go together, check out these RC Groups Build Logs on the Takahe glider kitset, a modern take on those classic RC gliders from the 70's and 80's.
It's a 3 channel RES glider and can be built as either 100" or 110" wingspan. The kit includes a pure glider nose bulkhead, and an optional electric motor nose mount bulkhead.
Have a read of this RC Groups Build Log by Steve in Australia who built the pure glider option, or this RC Groups Build Log by Phil in New Zealand who built the electric option.
Testimonials
Hi Pete. Thanks for your prompt attention to my kitset order, it arrived without a mark on it. The laser cutting is the best I've seen, even better than the SIG kit sets I have. I will pass the word around our club over here.


John Grant, New Zealand
Hi Pete. I have finished the Buzzard Bombshell from your semi kit. The accuracy of parts  along with extra strip wood were of top quality. Have finished model in Solarfilm, powered by a Scorpion electric motor, came out all up at 4lbs. 8ozs. Test flew yesterday with only down thrust needed. A great project and a worthy addition to my vintage stable.

Harvey Stiver, New Zealand
Hi Pete. The Slingsby kit has just landed (pun intended). I haven't had the chance to unpack the laser cut parts yet but going by Darryl's comments they will fit like a glove. Also the plans are the best I have seen in a long time and I have been modelling for more than 50 years!!

Ian Thompson, Australia