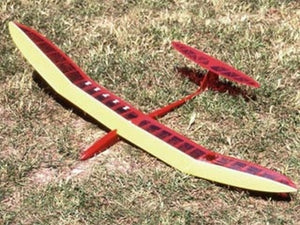 Sunbird 54" or 62" Glider
Regular price $134.00 Sale
The Sunbird Glider is another classic design from Dave Thornburg of the Bird Of Time fame. They say the Sunbird was the glider that started hand launch R/C.
Dave talks about weight being the most important factor in hand launch gliders, and in particular keeping it down. Well with modern radios now, and featherweight receivers, batteries and servos, you can shave a huge percentage off anything they could have achieved back in the 80's!
In our kit we have included a re-drawn wing plan of two sizes, and extra wing ribs so you may build this glider either to the original 54" size, or scale up to 62"
The Sunbird is a Complete Airframe Kit, so all wood components are included to complete the build.
UK Customers - Please note that the kit does not reach the £135 VAT border threshold and is therefore not available for purchase.

Specifications:
Wingspan: 54" or 62" / 1371mm or 1475mm
Number of channels: 2
Includes full sized rolled plan 

and the original construction article
Documents: