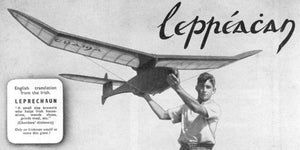 Leprechaun 103" Glider
Regular price $296.00 Sale
The Leprechaun was designed by R A Twoomey in 1950 as a low aspect ratio free flight glider, and was a record breaker in it's day. Although the span is only 103", the wing and tail area are huge!
Our kitset is engineered true to the original design, with the under cambered aerofoil, pylon mounted wing and tailplane, and stick construction of the fuselage. We have re-engineered the tailplane mounting for a simple and sturdy mount, and drawn a new plan showing the RC conversion of the rudder and tailplane, and the new tailplane mount.
Specifications:
Wingspan: 103" / 2616mm
Number of channels: 2
Includes full sized rolled plan
Materials Required For Short Kit Airframe Completion:
(These materials are included in the Complete Airframe Kit)
1.5 x 75 x 915 Balsa Sheets x 8
6.5 x 6.5 x 915 Balsa Sticks x 8
9.5 x 9.5 x 915 Balsa Sticks x 17
12.5 x 12.5 x 915 Balsa Sticks x 7

Pine Dowel 6mm x 300 x 1
Documents:
Short Kit Or Complete Airframe Kit?
A Short Kit includes a full size printed plan and all of the laser cut parts that are required as part of the complete airframe build.

Items such as wing ribs, dihedral joiners, fuselage formers & fuselage parts, doublers, bulkheads and so on.

Every part which is a complex cut is precisely laser cut as per the plan and included in the short kit. Some kits may also include vacuum formed ABS parts like canopies or cowlings.

With a Short Kit, the only items you need to add to the laser cut parts to build a complete airframe are components which are simply cut to length. Parts such as wing spars, wing sheeting or fuselage sheeting for example.


A Complete Airframe Kit includes the Laser Cut Short Kit, plus the entire list of additional materials required to complete the airframe build.
Select this option when adding to your cart to purchase all of the materials required to complete the airframe build.
Every kit includes a full size printed plan, and where available the designers original construction notes. The kits do not include miscellaneous hardware such as pushrods, control horns, hinges, wheels etc.