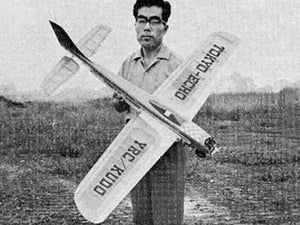 Tokyo-Echo
Regular price $215.00 Sale
This is a classic 1964 low wing model that was designed by Mr Azuma Kudo of Japan. It was originally designed as a single channel model (on ailerons!). Fortunately, multi-channel radios started to become available, and it was possible to start to fly aerobatics or "stunts" as they were called back then.
We have tried to faithfully reproduce this kit in its original size and design. We have slightly modified a couple of the front formers to allow for more internal space as we are sure that you will struggle to buy escarpments and the tiny fuel tank that was used in the construction nearly 60 years ago.
Mr Kudo was a prolific designer of models as this quote attests:
"During the past ten years I have designed about 100 RC models, almost all of which were single channel planes. To some, it is a source of amazement that anyone could construct this many without losing interest. But, being charmed with the conciseness and simplicity of form in single channel RC, I am working with it continuously, in order to obtain the best possible performance."
The model was originally powered with an Enya .15 or a larger .19 – the model will lend itself to electric conversion.
This kit will only be available with the laser cut parts and with the full wood kit as there is little difference in the price. It will save you having to chase around for the additional wood and give you a quicker build.


Specifications:
Wingspan: 51" / 1295mm
Number of channels: 4

Recommended engine size: 0.15 - 0.21 two stroke or electric equivalent
Includes full sized rolled plan
Vacuum formed canopy
Documents:
Short Kit Or Complete Airframe Kit?
A Short Kit includes a full size printed plan and all of the laser cut parts that are required as part of the complete airframe build.

Items such as wing ribs, dihedral joiners, fuselage formers & fuselage parts, doublers, bulkheads and so on.

Every part which is a complex cut is precisely laser cut as per the plan and included in the short kit. Some kits may also include vacuum formed ABS parts like canopies or cowlings.

With a Short Kit, the only items you need to add to the laser cut parts to build a complete airframe are components which are simply cut to length. Parts such as wing spars, wing sheeting or fuselage sheeting for example.


A Complete Airframe Kit includes the Laser Cut Short Kit, plus the entire list of additional materials required to complete the airframe build.
Select this option when adding to your cart to purchase all of the materials required to complete the airframe build.
Every kit includes a full size printed plan, and where available the designers original construction notes. The kits do not include miscellaneous hardware such as pushrods, control horns, hinges, wheels etc.